WELCOME TO THE WRITING ROOM
"Faith never knows where it is being led, but it loves and knows the One who is leading." Oswald Chambers
This is the room where the Lord plants me most of the time to write. We have some pretty deep conversations as the warm (okay, hot) Florida sunshine pours through the windows in spite of attempts to keep it at bay.

Here you'll find joyful chaos...me and the room! It's a friendly place to visit and, I pray that everything you find here will inspire you in your own writing.

*Click here on the word Journaling to find a section that discusses and shares some of my past journal entries.*

As I can, I'll be adding more about the writing experience, so stop by often.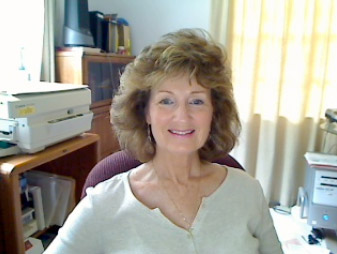 This room is my retreat, my prayer room, computer room, the place where phone calls are made and taken from friends, loved ones, and business acquaintances, it's the area I keep books and magazines and files and the rest of the things necessary to keep up with writing.

On the top shelf of the desk where I write, there's a worn prayer plaque a dear friend gave me long ago, and it's a constant reminder to me that I can't do it by myself. On it, written in gold lettering, is an old preacher's greeting to each new day:
"Lord, help me to remember that nothing is going to happen to me today that You and I together can't handle."
So the Writing Room is a jumping-off-place for me to share my writing with you and for you to find answers to questions about writing contemporary inspirational fiction and much more.

And speaking of jumping--wouldn't you love jumping into this serene scene?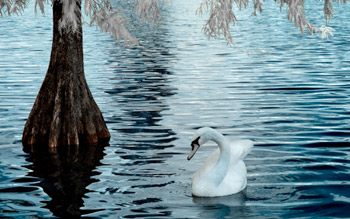 Most of the photographs on the web site were taken by my daughter, Deb Sandidge, who lives in Central Florida. She shot this beautiful Florida scene with her infrared camera and used some of her special "digital darkroom" touches to create a different look. Birds and animals seem to pose for her!
"Love is a fruit in season at all times, and within the reach of every hand." Mother Teresa